Zot!
by Scott McCloud
Recommended for High School and Up
Zot! is the training ground of a comics master.
'NUFF SAID!

Even Wired Magazine is talking about comics in the classroom!  Josh Elder, the executive director of Reading With Pictures, tells us why he started his non-profit organization:
Comics were instrumental in teaching me how to read at a very young age. I could follow the story through the images, which gave me the basics of the plot. From there, I was able to use the visual context the images provided to reverse-engineer a lot of the words I didn't already know. Comics not only taught me how to read, but to love reading.
Full article here, which features a page from a cool comic book by Fred Van Lente and Ryan Dunlavey of Action Philosophers fame!
Dwayne McDuffie's writing first caught my eye when I was in high school. He was the writer behind Damage Control, a Marvel Comics mini-series about a business firm that cleaned up cities after big superhero fights.  I've followed his career off and on ever since.  When he started Milestone Media with a group of his friends, I bought all the books he wrote.  I admired his guts, I admired his business sense, and most of all I admired his stories.  My son and I are currently watching Justice League episodes that he wrote and edited.  At Comic-Con a couple of years ago, I was asked to participate on a panel discussion with him.  I pestered the moderator to seat me next to him, just so I could shake his hand.
Today, Dwayne McDuffie died. Shocking to say the least, given his age. During his short life, many, many of his words made their way into my brain.  Usually this was through the printed page, but I was lucky enough to exchange a few in person.
Dwayne McDuffie, thank you for all your stories.  You will be missed.
Why not celebrate the esteemed leaders of our nation by reading Scott McCloud's somewhat forgotten New Adventures of Abraham Lincoln?  The book has often been maligned as McCloud's worst book ever, but even if that's true, it's still a Scott McCloud book.  Granted, the art is pretty rough — McCloud was just beginning to experiment with a purely digital art process — but the book still manages to explore a number of ideas about icons, history, and heroes. Well worth tracking down!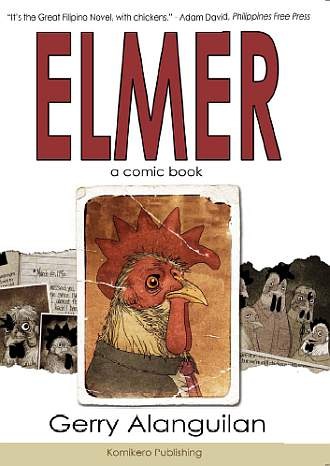 Elmer
by Gerry Alanguilan
Recommended for High School and Up
Can you believe that Gerry Alanguilan actually made something even more awesome than this video clip?!
'NUFF SAID!
Berkeley's Comic Relief, one of the best comic book stores in the country for the last couple of decades, closed its doors for good earlier this week.  Rory Root, the shop's long-time owner, passed away in 2008 and the shop has struggled along ever since.
Comic Relief is the only store to have carried every single book I've ever done, from my first mini-comic to my latest graphic novel.  Many, many Bay Area (and former Bay Area) cartoonists can say the same thing.  Rory and his crew ran that kind of store.
Comic Relief and Rory are both deeply missed.  Tom Spurgeon has a great retrospective here.
Here is yet another article about why comics belong in school libraries:
Teacher-librarians such as Ernie Cox at Mark Twain Elementary in Iowa City have embraced the graphic novel as a reading tool.

"A lot of educators see now that the graphic novel is just a format with multiple genres," said Cox. "Fiction, non-fiction, fantasy, science fiction, mystery. The range of topics has really opened up."

The top circulating items in Twain's school library are all graphic novels for younger children, such as the "Lunch Lady" and "Baby Mouse" series.
Including graphic novels in a collection actually increases overall circulation.  So if you're a school librarian, what are you waiting for?  Go get some of them funnybooks!  Full article here.
Comic Book Resources has a retrospective on the short life of Mike Parobeck, one of my favorite cartoonists ever:
Michael Parobeck was a comic book artist completely devoted and true to this graphic medium. He always gave readers his best with the hope that his work would uplift their spirits. Franzese explained, "To him, it was all about drawing comics…"
Parobeck's work has charisma, clear storytelling and a  Toth-like economy of line.  He's definitely one of my influences.  Full article here.
Short Program
by Mitsuru Adachi
Manga short stories at their finest.
'NUFF SAID!
David Brothers writes for Comics Alliance:
Being a black comics fan can be weird sometimes, particularly if you're a fan of mainstream comics. There's not a lot that appeals directly to you. The black guys are mainly sidekicks or second stringers at best, and the black women consist of Storm, and that's really about it. Theoretically cool moments like Luke Cage's "Where's my money, honey?" feel cornball and silly. Who talks like that? And heaven forbid should you read a comic dedicated to fighting racism, because you're in for what's sure to be the most simplified, condescending, po-faced tale ever. Don't even get me started on the Professor X/Martin Luther King and Magneto/Malcolm X comparison, because that is one of the laziest, dumbest things in comics.
Not only does he share his own thoughts on race in comics, but he also drops some history on you.  I'd never heard of All-Negro Comics, a 1947 title by a group of black cartoonists.  Full article here.