I'll be on three panels on Sunday.  Come by and say hi!  Details here.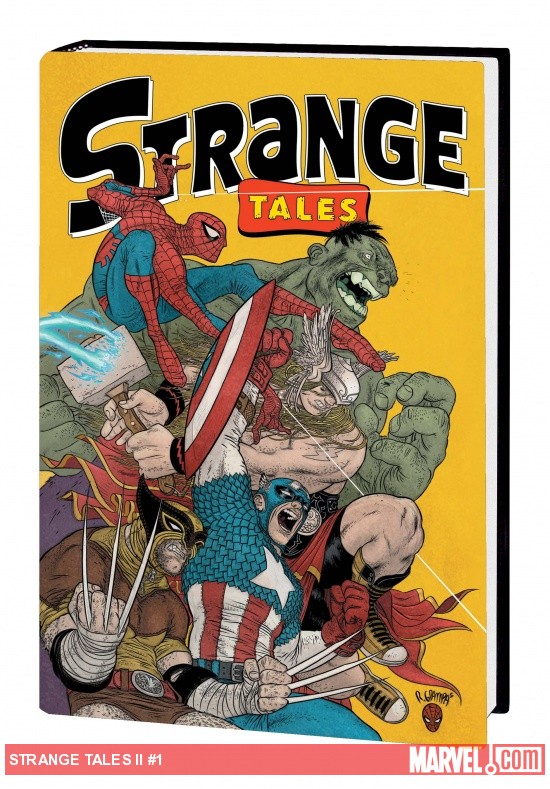 Wanna see your favorite indie comics cartoonists (and me) draw your favorite Marvel heroes? Go to your local comic shop and buy a copy today!
I'm not totally sure what the Defense Video & Imagery Distribution System is, but here's a cool article from them about how Afghan girls and boys are learning about constitutional issues, citizen rights, and legal reform through comic books:
Mohammad Aziz, Urgun District deputy director of education, distributed rule of law comic books to more than 250 children March 27 and 28.

Members of Paktika Provincial Reconstruction Team delivered the comic books to Aziz so he could give them to the students of Abu Herera School in Balish Kalay and Khullafai Rashedeen Primary School in Ali Haydar, Afghanistan, on their first day at school after winter break.

"We encourage our kids to go to school," Aziz said. "There are 11 schools with boys and girls, and we are very proud of that."
Full article here.
Fox Bunny Funny
by Andy Hartzell
Recommended for High School and Up
You'll spend hours trying to figure out what this beautifully-drawn, beautifully-told comic is all about.
'NUFF SAID!

First Second is celebrating its fifth anniversary this year!  Hard to believe the hard-working folks at FS have gotten so far in just five short years.  As part of their celebration, they've asked their creators to do little original art pieces that they'll give away to supportive retailers and the like.  I'm gonna do six of them.  Here's the first:
My signature on Sun Wukong's crotch was an unfortunate result of a lack of pre-planning.  Oh well.
One day UNF professor Katie Monnin got hit in the head by a copy of Art Spiegelman's Maus falling off her shelf.  This eventually led to her exploring comics as a literacy tool for her doctorate.
By the time she got to Kent State University to work on a doctorate in literacy, Monnin, who had worked for a few years as an English teacher in middle school and high school, was developing ideas about how to use graphic novels in the classroom.

At first she met plenty of resistance. She wanted to use Jeff Smith's graphic novel "Bone" in a classroom and then write her dissertation on the experience. Schools wouldn't let her do it.

But Monnin, who exudes enthusiasm for her ideas, refused to be discouraged. Today she's an assistant professor of literacy at the University of North Florida and is at work on her third book on the subject of using graphic novels in the classroom. Appropriately, she plans to do it in graphic novel form.
She's written a few books on the subject!  Full article here.
Eagle
by Kaiji Kawaguchi
Recommended for High School and Up
When the first Asian American President of the United States makes important political decisions, he does so against a background of speed lines!
'NUFF SAID!

This review was published last year, but it's still worth bragging about. Gaming Bits, the popular gamers' website, likes Level Up!
Level Up is an upcoming graphic novel from First Second Books. The story of Dennis is one that many can relate to. Whether you are an aspiring professional gamer, game developer, game reviewer, or just have a dream locked away in your heart, you can definitely relate to the trials of Dennis. Each chapter is presented as a level, where Dennis struggles with his father's desire to see him succeed as a gastroenterologist. Soon after his father's passing, the pressures only haunt him more. Four guardian angels, manifested by a long lost card from his father, guide Dennis through his trials of study as he questions his own dreams.
Thanks, Gaming Bits!  Full review here.
Like the entire world, I've been following the events in Japan with a stomach-twisting sadness.  Japan is home of one of the three major comics cultures in the world, and the comic book world is beginning to respond.  Check out this article over at Comics Alliance, from which I stole the image above.J
Also, just found an article on Time.com about where you can donate money.
Goofy headline notwithstanding, here's a cool article about non-fiction comics making their way into history curricula from The London Free Press:
"Comics tend to have the best of both worlds. You get that visual aspect with the intimacy of a book," said Wiseman, whose store is sponsoring Comic Book Literacy Day March 16 at the Central Library.

Five years ago, Wiseman got the graphic novel Louis Riel, by Chester Brown, into the Thames Valley District school board as teachers tried new ways to teach history. Two Generals, about the Second World War, will also appear in history classrooms.
Louis Riel by Chester Brown is one of the most amazing graphic novels I've ever read.  The hand-written footnotes alone are worth the cover price.  If you haven't checked it out, go check it out!
Full article here.