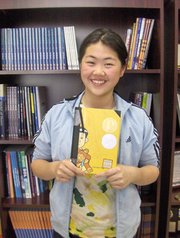 Eighth-grader Christine Wang just won a Library of Congress contest by writing a letter about American Born Chinese!  From The Connection Newspapers article:
A Rocky Run Middle eighth-grader, Christine Wang, has won first place (for grades six through eight) in the Letters about Literature contest sponsored by the Library of Congress. She wrote her award-winning letter about the book, "American Born Chinese" by Gene Luen Yang.

Christine, 13, got to read her letter recently at the Virginia Festival of the Book in Charlottesville. The book's a graphic novel in hard-cover, comic-book form. It contains three connected stories that become one at the end, and they appealed to her on a personal level.
Congratulations, Christine Wang! You're the best!  Read the full article here.